This post is intended for an audience of adults age 18 and older. This shop has been compensated by Collective Bias, Inc. and its advertiser. All opinions are mine alone. #CueTheNewYear #CueVapor #SatisfactionAtLast #CollectiveBias
Welcome to 2018, all!
Whatever you thought of the events of the last year, I think we can all agree that 2017 was a weird and wild ride. And guess what, you survived it! Congrats! You rock.
Now, we're into a new year and it's time to try some new things. You may have already made some resolutions and you may stick to them (huzzah!)… or, you may not. According to Statistic Brain, only 9% of people actually keep their New Year's Resolutions. Isn't that sad?
So, we here at Eat Play Pixels are going to help you. Below are some great resolutions for you to try that are not only easy to keep, but also a lot of fun to do. Nothing complicated, lots of fun, with easy recommendations from us.
We'll see you in 2019 with your resolutions complete!
READ A NEW BOOK

One of my favorite quotes about reading actually comes from a book (isn't it funny how that works).
George R.R. Martin said:
"A reader lives a thousand lives before he dies. The man who never reads lives only one."
I love that quote.
I know, reading a book can be hard, and takes a long time, but I have introduced novels to people who say they "never read" and it literally changes their life once they gave it a chance. They see the world in a new perspective and I think we could all use a little different perspective than our own, don't you agree?
We think everyone should use What Should I Read Next to find a book they might enjoy. Give it a shot and see what comes up.
LISTEN TO NEW MUSIC
Easy. Listen to new music. So easy!
What I'm talking about here, though is music away from the genre you usually love. If you only listen to pop, try some classic rock. If you love hip hop, give country a go. If you only have bands from after 2000 on your iPhone, try something classical.
I'd start with a Google search for: "SONGS FOR PEOPLE WHO HATE X" and put in whatever genre you hate.
You may love it, you may hate, but you've tried it, and that's important.
GET MORE SLEEP
Get more sleep!
Sleeping has been proven to improve memory, sharpen attention, make you perform better better at sports, lose weight, lower stress and actually make you live longer. Seriously, all that from more sleep.
Even just a little more a night will help. So tonight, instead of watching another rerun of Friends, try to put your head down on the pillow a little earlier. We'll let you finish reading this article at least.
SEE WHAT VAPING IS ALL ABOUT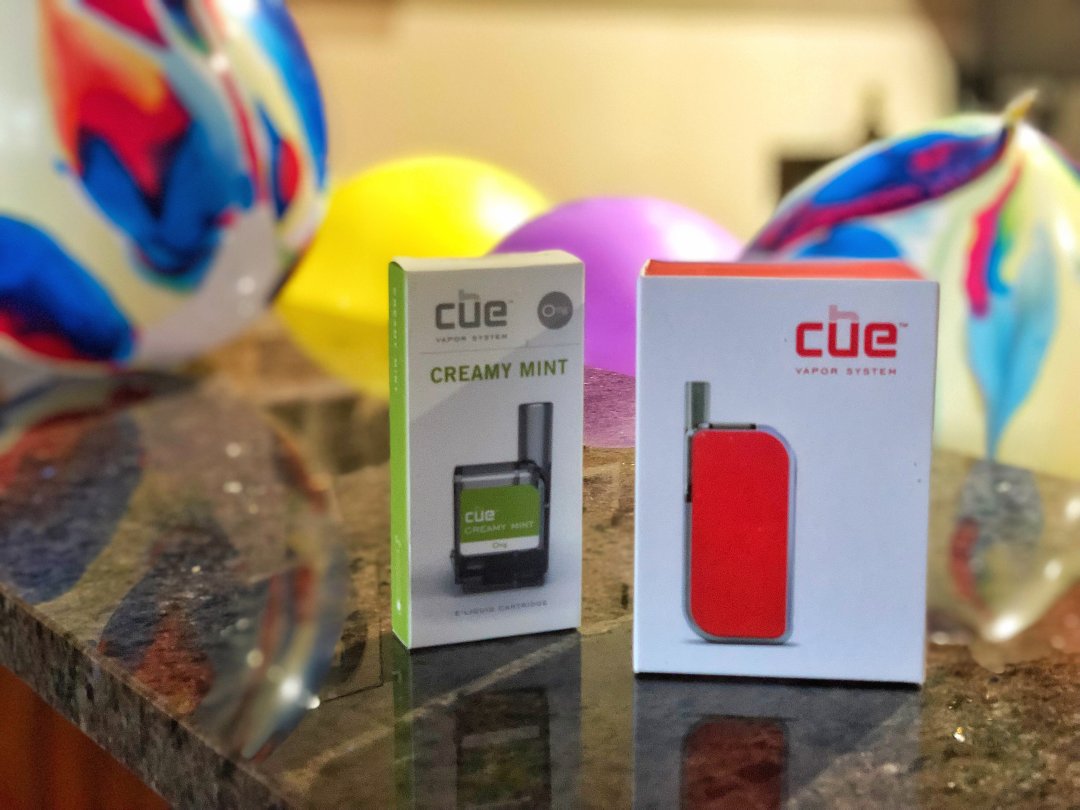 One of the things I tried for the first time about two years ago was vaping. Honestly, it seems like I couldn't walk down the street without running headfirst into a new vape store on my block. I wanted to see why it was so popular but had zero idea how to start.
Luckily, I found Cue™ Vapor System last year and they were perfect. As it says on the box, it's Vaping. Made Simple.™. It really is a device so simply designed that anyone can take it out of the box, insert a cartridge, and vape. Huzzah! You can purchase these online or check the store locator to see if they are available at a location near you. You can also sign up for their subscription program and save 15% on cartridges!
See:
Take it out of the box.
Take the cartridge out of the package.
Snap it in!
TRAVEL TO A NEW CITY
We love traveling. We often don't have the budget for traveling. This makes us sad.
Luckily, if your resolution is just to go somewhere new and you don't have a preference for where that is, then you're in luck. There are two ways to go about it:
1) Day Trip Like A Genius: Do a little research into the best day or weekend trips from your city. You'd be surprise on the fun you had. I had an amazing day in Milwaukee after a friend suggested we go. And we went and it's awesome.
2) Fly Like A Genius. I want you to do this. Head to skyscanner.com. Put in your city as the FROM and in the TO, I want you to put "everywhere". Then for the DEPART DATE, I want you to put in "cheapest month." Now, you'll see unbelievably cheap flights! Pick one for a city that seems interesting and go there.
Mission accomplished, now you can say you've seen somewhere new by the end of 2018.
TRY A NEW FOOD
Go to Regev Elya for 25 other countries and their delicious eats. How can you not love food pics from around the world?
WATCH AN OLD MOVIE
When was the last time you watched a black and white film? Hell, when was the last time you watched a film made before 1970?
The answer for most people is very, very, very rarely. However, some of the best films ever made aren't even close to being modern. Give a classic a go and you may surprise yourself.
There you have it! Some easy to do resolutions you can even start tonight. If you do pick anything on this list and you like it, let me know. One of my big resolutions is to follow through with more goals, and I'm glad I got this post out before June. 🙂
NOT FOR SALE TO MINORS. California Proposition Warning statement: "WARNING: This product can expose you to chemicals including nicotine, which is known to the State of California to cause birth defects or other reproductive harm. For more information, go to www.P65.com. WARNING: This product contains nicotine. Nicotine is an addictive chemical. Cue™ the Cue Logo and Vaping. Made Simple.™ are trademarks of Digirettes, Inc.